New models - Honda - Civic
$40K Honda Civic hatched
Currency woes and rising ADR costs sour Honda Australia's UK-built small car
7 Apr 2009
HONDA'S European Civic hatchback has been compromised by high-source pricing, the decline of the Australian dollar, expensive Australian Design Rule modifications and the severe economic downturn that has temporarily turned-off supply from Britain.
On sale now from an eye-watering $38,990, the five-door hatch version of the eighth-generation Civic has gone from a mainstream model prospect to a "limited edition", according to Honda Australia senior director Lindsay Smalley.
Honda has struggled to keep its recommended retail price below the $40,000 barrier.
At last week's launch of the Honda Odyssey people-mover, Mr Smalley called for the Australian government to adopt European crash-test standards and child seat anchorage requirements, since they are similar to the expensive modifications each car-maker must make to meet Australian regulations.
Mr Smalley said this move would make vehicles imported from Europe cheaper, helping to offset price rises caused by currency devaluation – the other culprit behind the Civic hatch's higher-than-anticipated recommended retail pricing.
Only 420 Civic five-door hatch models will be imported in the highly specified Si guise. Choosing the automatic over the manual bumps up the price to $41,290, while metallic paint costs extra.
Premium small cars that undercut the Civic Si include the BMW 118i, Audi A3, Citroen C4 2.0 HDi, Mercedes-Benz A170, Peugeot 308 2.0 HDi, Volkswagen Golf 118TSI Comfortline Sport and Volvo C30, while Honda's own high-performance Civic Type R three-door costs just $1000 more.
The Si is at least $10,000 more than Honda anticipated when it embarked on the project more than two years ago, according to one company insider.
Honda says it will consider importing more Civic Si hatches if demand for it exists, otherwise no more will arrive until at least the introduction of the next-generation Civic in about 2011 or 2012 – and even that is still very much up in the air.
Meanwhile, due to the four-month closure of the Swindon factory in the UK, Australian Civic Si imports have been delayed. Cars will begin to filter into the country in the next few weeks.
"It is a limited edition, and we are test marketing it in Australia," Mr Smalley said.
"(But) We're excited about the car and I think there is a market for it.
"We had to make the decision a few years out, and once you make the decisions you have to live with them, and you just can't pull the pin.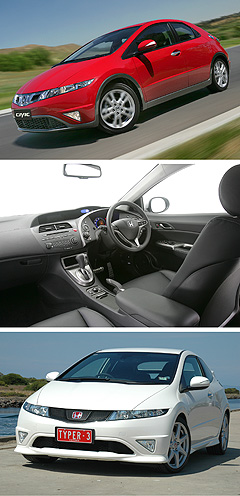 "But I don't think we wanted to pull the pin in any way, even at this price, because of the (very positive) reaction to the Civic from a styling point of view – and from the demographic too (at the recent Melbourne International Motor Show)… they asked how much it was going to be, and even at $40,000, they didn't flinch.
"Plus, the dealer reaction has been very positive, and they're a fairly cynical bunch when they want to be." Mr Smalley indicated that another lot of Civic Sis are waiting in the wings should this lot prove successful.
"We will do a limited edition run this year – and we are literally restricted to that 420.
"And next production availability is October for MY2010 build, so if this sells well, we will take whatever (Honda UK) can give us for 2010, and we have put our hand up saying that if they are going to keep building this in the future, then we want to be in there.
"We're quite positive that we will be able to get another 400 or 500 cars (from Honda UK)."
Meanwhile, the Civic Type R will continue unabated.
Despite their shared name, the European Civic Si hatch is actually based on a variation of the Jazz light-car platform, and not the architecture underpinning the UH Civic sedan range built in Thailand (except for the Japanese-made Hybrid version) and sold in Australia since early 2006.
According to Honda, the Civic Si needed to be "more individual and have stronger style" than all of its competitors on its European home turf – so hence the "revolutionary" styling.
Compared with the 2000-2005 Civic Vi/VTi five-door hatch – this car's direct predecessor – the 2009 Si is smaller, measuring at 4720mm and 1460mm in length and height respectively. This is a drop of 35mm each.
But the Civic Si is 65mm wider at 1765mm, while the front track is 1504mm wide (up 34mm) and the rear is 1510mm (up 45mm).
With room for five people, cabin space increases compared to the old Civic hatch, despite the smaller dimensions, with the Jazz's 'Magic Seats' fitted as a result of the fuel tank moving from beneath the rear seat to under the front ones.
The cargo's total volume with the rear seats up is 415 litres.
At the other end of the Civic Si is a Euro IV-compliant 1799cc 1.8-litre single-cam 16-valve i-VTEC four-cylinder engine familiar to UH Civic VTi sedan owners.
Running on 91 RON unleaded petrol, it delivers 103kW of power at 6300rpm and 174Nm of torque at 4300rpm to the front wheels via a six-speed manual or five-speed automatic gearbox. Honda expects 75 per cent of all buyers will want to have their gears shifted for them.
The Si's 0-100km/h sprint-time takes 8.6 seconds, while the average combined fuel consumption reading is 6.9L/100km for the manual and 7.2L/100km for the auto. The former is rated at 163g/km of carbon dioxide emissions, 9g/km shy of the auto's result.
Steering is via electric rack and pinion, while a torsion beam rear axle matches the MacPherson strut front suspension system. Brakes are 320mm ventilated discs up front and 305mm solid discs in the rear.
Aiding its five-star Euro NCAP crash test result is Honda's Advanced Compatibility Engineering body structure that provides real-world impact protection, as well as electronic stability control (ESC) (dubbed VSA by Honda), ABS anti-lock brakes, electronic brake-force distribution, breakaway foot pedals, double pre-tensioner front seatbelts, dual front airbags, side airbags and curtain airbags.
Reflecting its premium pricing, Honda has loaded the Civic Si with leather upholstery, dual-zone automatic air-conditioning, tilt and telescopic steering, fog lights, 17-inch alloy wheels, rain-sensing wipers, automatic headlights, rear parking sensors, cruise control and an alarm, among other features.
Honda released the Civic hatch in Europe in early 2006. The company says high initial demand delayed production for Australia until recently, while meeting complex ADRs also held the Si back.
So far, some 112,000 units of this generation Civic hatch have been built in Swindon.
2009 Civic Si hatch pricing:
Si
$38,990
Si (a)
$41,290



The Road to Recovery podcast series




All new models

Civic pricing

Motor industry news

GoAuto can help you buy a new Civic

Customer Terms and Conditions – New Car Lead enquires

Agreement

This is an agreement between GoAutoMedia Pty Limited ACN 094 732 457 of PO Box 18, Beach Road, Sandringham, VIC, 3191 ("we/us"), the owner and operator of the GoAuto.com.au website ("the website") and the person wanting GoAuto.com.au to provide them with a lead for the purchase of a new car ("you").

By completing a New Car Lead Enquiry, you agree to the terms and conditions and disclaimers and acknowledge the policies set out below.

Terms and Conditions

In order for us to effect a lead you must you must complete a New Car Lead Enquiry ("Enquiry").
We will call you as soon as possible after you complete the Enquiry and certainly no later than the next business day. When we call, we will discuss with you your new car requirements.
You consent to our passing on the Enquiry and your requirements to an appropriate authorised motor car dealer as a lead.
We will contact you again in approximately eight days following your initial enquiry to check on the progress of the Enquiry.
While we will provide the dealer with the Enquiry and details of your new car requirements, we take no responsibility for what happens after passing on that material as a lead.
You acknowledge that we are a new car information service providing new car editorial information, pictures and prices to our customers as a guide only. Any new car prices published on the website are the manufacturers' recommended retail prices and do not include delivery charges and on-road costs. Any authorized motor car dealer to which we pass on your Enquiry as a lead will provide you with full details of the price at which the vehicle will be sold to you.
You acknowledge that we do not sell motor vehicles. Any sale of a new car to you by a dealer after we have passed on your Enquiry to that dealer as a lead, is a sale by that dealer not by us.

Privacy Policy– New Car Lead Enquires

We take privacy very seriously. We understand that you will only complete an Enquiry if you can trust us to protect your personal information and use it appropriately. Our policy is to ensure that the personal information collected when you make an Enquiry is only used for the purposes of connecting you with an authorised motor car dealer.
We do not on-sell information collected from you or any other customer.
From time to time, we may email you with information or promotions that may be relevant for car buyers. You will continue to receive communications from us unless you tell us that you do not want to receive any advertising or promotional information in the future by unsubscribing from these communications.

close

Click to share

Honda models

All new models

Civic pricing

Motor industry news
© Copyright (1979-2021 John Mellor Pty Ltd)