Subscribe now - it's free!
GoAutoMedia takes privacy very seriously. We understand that users will only use our service if they can trust us to protect their personal information and use it appropriately.
Our privacy policy is to ensure that the personal information collected in the subscription for GoAutoNews, GoAuto Mag and GoAutoNews Premium is only used for the purposes of receiving GoAutoNews, GoAuto Mag and GoAutoNews Premium. Our GoAutoNews, GoAuto Mag and GoAutoNews Premium customers will not receive any other marketing material from us.
close
GoAutoNews Design & Tech - latest edition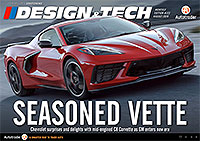 Design & Tech
September 2019 Edition 123
Welcome to GoAutoNews Design and Tech - focused on the latest developments in automotive styling and technology, as car-makers continue to push the boundaries of performance, efficiency and design.
Download PDF HERE
Problems downloading?
Get the zipped version here
Advertise in
Go

AutoNews Design & Tech