Future models - Lexus - IS - IS250C
Lexus prices IS250C from $80k
Sharp pricing announced for new Lexus IS250C coupe-convertible ahead of launch
14 Jul 2009
LEXUS Australia has announced a trio of competitive pricetags for its new three-pronged IS250C coupe-convertible range two weeks out from its national media launch.
The IS250C will hit the market this month with an opening recommended retail price of $79,900, plus dealer delivery and statutory charges.
The entry-level IS250C Prestige runs the same 153kW/252Nm 2.5-litre petrol V6, mated exclusively to a six-speed automatic transmission, as the IS250 sedan upon which it is based – as does the mid-range IS250C Sports ($84,900) and IS250C Sports Luxury ($99,900) grades.
That makes the base IS convertible at least $17,000 more affordable than its most direct rival in BMW's 325i Convertible ($97,121), as well as almost $24,000 less expensive than the Mercedes-Benz CLK 200K Cabriolet ($103,689), which will eventually be replaced by the E-class Cabriolet.
Audi's less powerful (120kW/225Nm) soft-top A4 1.8T Cabriolet is $2900 cheaper at $77,000 while the 147kW/280Nm A4 2.0 TFSI S-Line is $11,900 pricier at $91,800, although Volvo's 125kW/230Nm C70 2.4 LE remains Australia's lowest-priced premium coupe-convertibles at $69,950 – almost $10,000 less than the Lexus.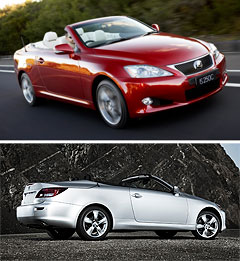 Lexus Australia chief executive John Roca said the pricing of the brand's additional IS250C model was realistic, rather than apologetic.
"The IS250C will also add a fresh perspective to the luxury convertible market, combining Lexus' reputation for outstanding quality with second to none specification," he said.
"The luxury convertible market is highly competitive and IS250C brings a new look and approach to the segment, one that we believe will resonate with consumers.
"In this market segment, price is less imperative. Lexus IS250C will be purchased for emotional and personal reasons.
"Lexus, however, also adds an element of rationality to that decision, offering a vehicle that is unmatched for its quality, reliability and specification.
"Unlike our rivals, we've long believed that customers need simplicity in their ownership and purchase experience.
"Lexus achieves this by offering vehicles that are highly specified as standard, which inturn further benefits the customer as we have the ability to offer sharp pricing due to the reduced complexity of our model line-up.
"Our pricing is not apologetic – it's realistic. In our relatively short history we constantly make the competition stand up and take notice." Despite being mid-winter, Lexus has confirmed the IS250C, which will effectively replace the $174,000 SC430 as the Japanese luxury brand's second hardtop convertible model, is already sold out for the first three months, with just 50 examples expected to arrive in Australia each month.
The two-door IS250C, development of which included durability tested in the Australian Outback, measures 4635mm long, 1800mm wide and 1415mm high overall, and rides on the same 2730mm wheelbase as the IS sedan.
Standard equipment across the range should include six airbags including twin front, front-side and side curtain airbags, electronic traction/stability control, an anti-lock braking system (ABS), electronic brake-force distribution, climate-control air-conditioning, an eight-speaker sound system with six-CD changer and USB/auxiliary inputs, front foglights and power windows/mirrors.
The base Prestige version runs 17x8.0-inch alloy wheels with 225/45 R17 front and 245/45 R17 rear tyres, while premium grades should come with 18x8.0-inch front wheels with 225/40 R18 tyres and 18x8.5-inch rear wheels with 255/40 R18 tyres.
Other top-end equipment should include a satellite-navigation system with reversing camera, Bluetooth connectivity, semi-aniline leather trim, heated front seats and adaptive Xenon headlights.
Overseas reports claim Lexus is also readying an F-badged version of the IS250C, powered by the same 311kW/505Nm 5.0-litre V8 as the IS F sedan, to appear globally late next year.
The four-door IS F has been more popular than Lexus expected in Australia, where demand far exceeds the company's factory allocation of 12 per month.
2009 Lexus IS250C pricing:
IS250C Prestige (a)
$79,900
IS250C Sports (a)
$84,900
IS250C Sports Luxury (a)
$99,900

Read more:

Topless Lexus tested in Oz




The Road to Recovery podcast series




All future models

IS pricing

200t F Sport

200t Luxury

200t Sports Luxury

300 h Luxury

300h F Sport

300h Sports Luxury

350 F Sport

350 Luxury

350 Sports Luxury

Motor industry news

Click to share

Lexus models

All future models

IS pricing

200t F Sport

200t Luxury

200t Sports Luxury

300 h Luxury

300h F Sport

300h Sports Luxury

350 F Sport

350 Luxury

350 Sports Luxury

Motor industry news
© Copyright (1979-2021 John Mellor Pty Ltd)