23 Mar 2010
Marton is one of Australia's most respected automotive journalists.
He has 20 years' experience in both the two- and four-wheeled motor industries and a CV that includes working on the Ford assembly line at Geelong in his teens before moving into the fields of print and radio journalism and, for the past 10 years with GoAuto, online media.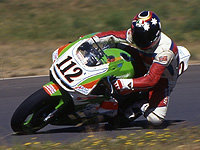 He has been riding bikes and driving cars for more than 30 years, including off-road motorcycle racing as a teenager and, since 1991, production road bike racing.
For the past 12 years Marton has driven just about every new vehicle released in Australia.
Marton began his career in late 1989 with
Australian Motor Cycle News
, where he worked for seven years before becoming editor of the weekly motor sport magazine
Australian Auto Action
in 1996.
In 1998 he became deputy editor of the monthly car enthusiast magazine
Motor
before heading up GoAuto's road test department from early 2001 after more than a decade at ACP.
An indefatigable news hound,with a great depth of knowledge of the global auto business and the vehicles it produces, Marton has been integral to the development of Australia's premier automotive industry publication,
GoAutoNews
.
In addition, by bringing to the table his strong understanding of the competitive features and designs of the vehicles for sale across the showrooms of Australia, Marton has led the team which has driven GoAuto's consumer web site,
GoAuto.com.au
, to the point where its service to car buyers is a serious competitor to the auto websites run by Australia's Big Media groups.